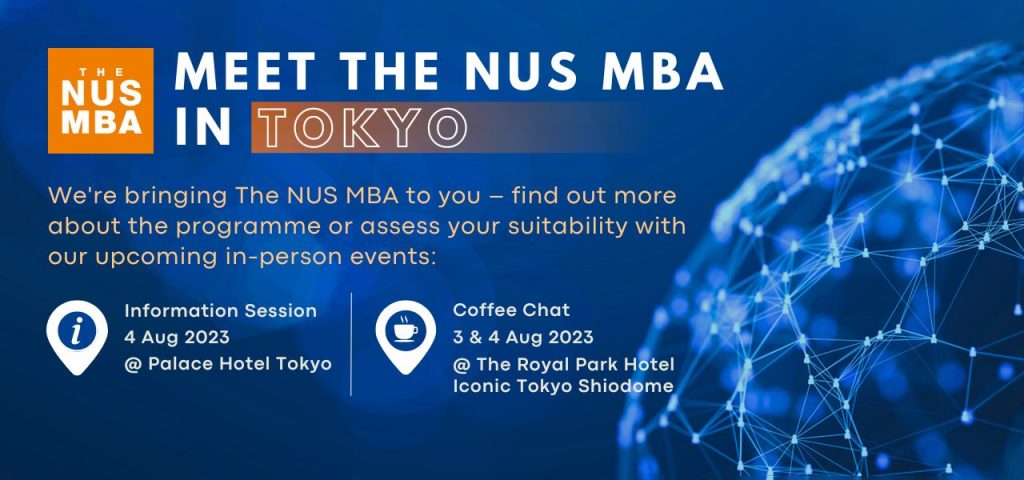 こんにちは!NUS MBAです!
タイトルの件、来月東京にてコーヒーチャットとセミナーが開催されます!
パンデミック以降初のF2Fイベントになりますので、NUSに興味のある方・アジア留学に興味がある方どなたでも奮ってご参加いただければ幸いです!
セミナー:8/4(金) 19:30-21:30 @パレスホテル東京
コーヒーチャット:8/3(木)・ 8/4(金)@ザ ロイヤルパークホテル アイコニック 東京汐留
詳細・登録は下記をご覧ください!
皆様とお会いできることを楽しみにしております!
You're Invited: NUS MBA In-Person Information Session & Coffee Chat in Tokyo
We are delighted to invite you to meet with us and learn more about The NUS MBA in Tokyo!
Join us for an exciting opportunity to discover what sets The NUS MBA apart from the rest. Highly immersive, globally recognised, and with a strong Asia focus, The NUS MBA helps students develop a global business outlook while gaining deep insights into doing business in Asia. It offers a multitude of opportunities for students to maximise their personal and professional development in and outside of the classroom, with a strong emphasis on experiential learning.
Find out what makes the programme truly transformative in this exclusive information session with June Lee, Senior Manager of Marketing & Admissions. During this session, June will also be sharing essential application tips to help you submit a strong and compelling application. You'll also hear from our current students and alumni, who will provide valuable insights into their own MBA experiences and answer any questions you may have.
If you are unable to attend the information session, we offer the option to join a 1-to-1 coffee chat instead. To make the most of this opportunity, we request that you submit your CV/resume in advance, allowing us to tailor our discussion to your background and goals.
The NUS MBA Information Session – Friday, 4 August 2023, 7.30pm-9.30pm JST
Register here: https://calendly.com/nusmbaevent/information-session-tokyo-4aug2023
Agenda (all timings in JST):
7.00 pm – Registration
7.30 pm – NUS MBA Information Session and Application Tips
8.15 pm – Alumni/Student sharing and Q&A
9.00 pm – Post-event networking
9.30 pm – Event ends
NUS MBA Coffee Chat – 3 & 4 August 2023
Register here: https://calendly.com/nusmbaevent/coffee-chat-tokyo
Limited seats are available for both the info session and coffee chat, so do RSVP soon and we look forward to seeing you in-person!